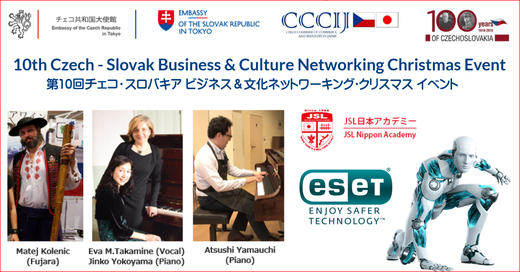 To the members, business partners, friends of the Czech Republic Chamber of Commerce in Japan
The "Czech BCN (Business & Culture Networking) Event" started in February 2016 will be the tenth.
This year, 2018 was the opportunity of the "Czechoslovak National Foundation Memorial 100th Anniversary · 1918 – 2018", and it was decided to hold a CCCIJ BCN event with the cooperation of the Czech Republic Embassy and the Slovak Republic Embassy. This time also a nice plan, Slovakian traditional instrument "Fayara" and a song of Czech and a small concert was prepared. In Business Talk I will introduce ESET, the most famous Slovakian IT company focused on IT security. ESET developed the initial antivirus software in 1987. As a pioneer of proactive malware detection technology, it is a company that protects 100 million users PCs in 180 countries around the world. Next, I will introduce JSL · Japan Academy corporation, which is a corporate member of the Czech Chamber of Commerce in Japan. We will utilize our know-how since its establishment in 1986 and will support students' success in the global society. "Japan that can only be experienced with JSL" has been evaluated from studying abroad around the world. Please enjoy yourself.
I am waiting for everyone's visit.
The Czech Republic Chamber of Commerce in Japan, Watanabe Roman
Date and time 12 December 13, 2018 (Thurs) 18: 00 ~ 20: 45 (17:30 reception start)
Place: Embassy of the Czech Republic in Japan, reception hall (2-16-14, Hiroo Shibuya-ku, Tokyo)
Access ︓ Hibiya line Hiroo station walking about 10 minutes
Membership fee (for present day only):
5.000 yen (CCCIJ member), 7.000 yen (general / non-member), 5.000 yen (student)
* Enjoy Czech wines, beers and Czech and Slovak dishes
<Program>
◆ 17: 30 opening · Start of reception
◆ 18: 00 opening · welcome greetings
Ambassador of the Czech Republic to Japan
Tomasz Dupu
Ambassador of the Republic of Slovakia to Japan
Marian Tommasik
◆ 18: 10 ~ 18: 50 Culture Session · Concert ︓
Slovak traditional music
· Korenich Machev (Huyara · traditional musical instrument)
Czech tradition
· Eva · Micras Takamine (vocals) Yokoyama Hito (piano)
PETROF "Christmas Song"
· Atsushi Yamauchi (piano)
◆ 18: 50 ~ 19: 15 Business Session ︓
ESET "Information security for non-IT people"
· Hiroya Koh, Country Manager
JSL Nippon Academy
· Yu Shimashiri, Manager
◆ 19: 15 ~ 20: 45 Networking Exchange Meeting
◆ Scheduled to close at 21:00
Click here for details
https://www.cccij.com/inpage/2018-11-28/