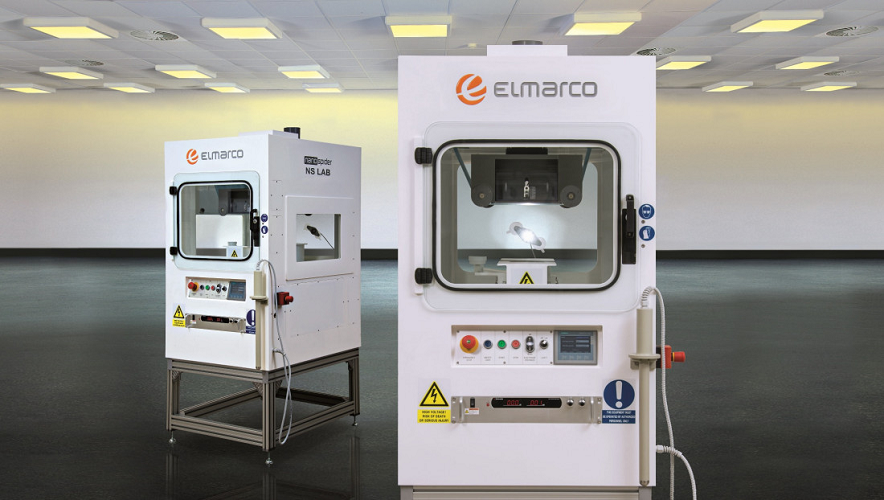 Nanospider™ NS LAB
Most affordable NS electrospinning equipment
Elmarco′s NS LAB is the laboratory electrospinning equipment for efficient nanofiber membrane research and for experimental work. The NS LAB uses the same stationary electrode system as found in industrial Nanospider™ Production Lines, therefore the results from the work on the NS LAB are easily upscalable to the industrial NS electrospinning equipment.
Experimental work and product development
Basic materials science
Elmarco′s electrospinning equipment NS LAB can be configured to work with a wide variety of polymers and to produce a wide range of organic and biodegradable nanofibers.
≫ Batch operating mode (30 – 80 min, depending on process)
≫ Integrated unidirectional substrate unwind / rewind
≫ Safety door locks and safety shut off switches

| | |
| --- | --- |
| EQUIPMENT | |
| Number of spinning electrodes per unit: | 1 |
| Spinning electrode width: | 350 mm |
| Substrate speed: | 0 – 5000 mm/min |
| Spinning voltage: | 0 – 80 kV |
Recommended air conditioning unit: NS AC150

NS LAB product profile (PDF | 500 kB)
Video NS LAB Laboratory electrospinning device
Optional camera for process analysis
The NS LAB tool can be equipped with an industrial camera offering a detailed focus on jets formation on the wire electrode. It enables to provide quantitative image analysis leading to analytical studies of process parameters related to Nanospider™ technology with resolution of 1 px = 12 µm and higher, exposure time 50 µs and higher, and frame rate up to 500 fps (or 180 fps @ full HD).
Analytical studies of process parameters
Nanofiber jets formation observation
Solution film deposition analysis
Parameters which influence the electrospinning process the most and can be analyzed: e.g. nanofiber formation, Taylor cones density and their geometry, distance between each individual jet, thickness and frequency of solution film deposition on the wire electrode.
■Contact■
KAZELFA Corporation
Tel: 042-372-8860  Email: info@kazelfacorp.com
Elmarco official website
https://www.elmarco.com/