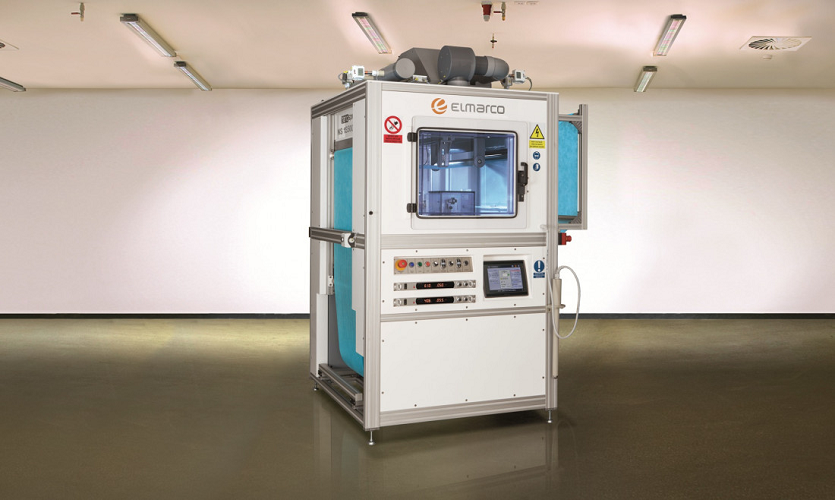 Nanospider™ NS 1S500U
Most versatile NS electrospinning device
Elmarco′s NS 1S500U electrospinning device is a versatile asset for nanofiber product development and research as well as small volume manufacturing. Standalone electrospinning device combines industrial production technology with features of high-end laboratory tool.
Sample production for applied research
Small volume manufacturing
The NS 1S500U electrospinning device is equipped with peristaltic pump for continuous feeding, enabling full time shift operation. Together with process data tracking and integrated unidirectional substrate unwind / rewind, NS 1S500U provides a platform for efficient small volume manufacturing. Researchers benefit also from capability of processing high viscosity polymer solutions.
≫ Continuous feed or batch operating mode
≫ Integrated unidirectional substrate unwind / rewind
≫ Process traceability enabled by process data tracking

| | |
| --- | --- |
| EQUIPMENT | |
| Number of spinning electrodes per unit: |  1 |
| Spinning electrode width: |  500 mm |
| Substrate speed: |  5 – 5000 mm/min |
| Spinning voltage: |  0 – 100 kV |
Recommended air conditioning unit: NS AC150

NS 1S500U product profile (PDF | 3300 kB)
Video NS 1S500U electrospinning device
■Contact■
KAZELFA Corporation
Tel: 042-372-8860  Email: info@kazelfacorp.com
Elmarco official website
https://www.elmarco.com/